This is an unique, affordable project that you and your child can make for Father's Day. Any dad would love a personalized gift like this coaster set! Tiles (about 20 cents each) and most of the supplies may be found at Home Depot or Lowe's. Parental supervision (or participation!) is recommended, and discretion should be used to determine age appropriateness.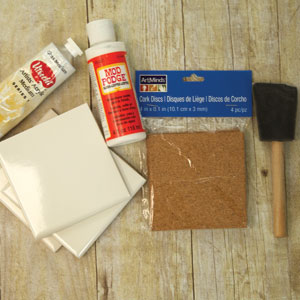 Supplies:
Computer printer
Computer paper (matte)
4-by-4-inch tiles
Foam paint brush
Scissors
Permanent glue
Gloss sealer (spray preferred)
Mod Podge Gloss glue
Cork discs
Instructions:
Step 1 – Choose one photo per tile. Print the photos of your choice, and cut each one into a 4-by-4-inch square.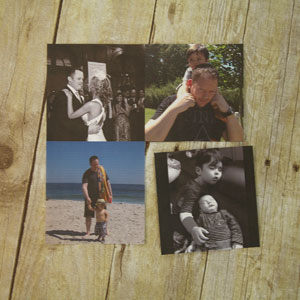 Step 2 – Start with one tile. Apply a thin layer of Mod Podge Gloss glue onto the "shiny" side of it with the foam paint brush. Make sure your strokes are nice and even when applying the glue. Place your photo image side up on the tile, and gently press it down while smoothing out any bubbles. Allow the Mod Podge to dry for approximately five minutes.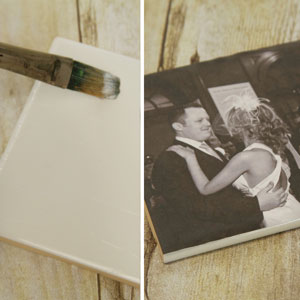 Step 3 – Once the photo has dried, apply an additional coat of Mod Podge on top of the photo on the tile. Evenly distribute the Mod Podge, and let it completely dry.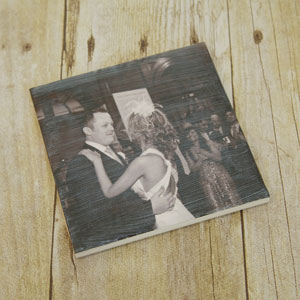 Step 4 – Apply your second and last coat of the Mod Podge once more on top of the photo. Once dry, the tile with photo should look like the image on the right.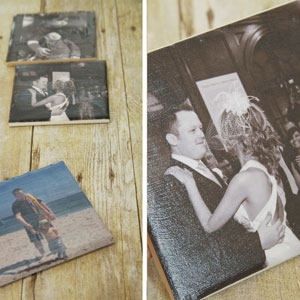 Step 5 – Take your tile outdoors for adequate ventilation, and spray it with the gloss sealer to give it a nice finish. Steadily spray the coaster with the sealer until you are satisfied with the gloss finish. Let it dry for at least one hour.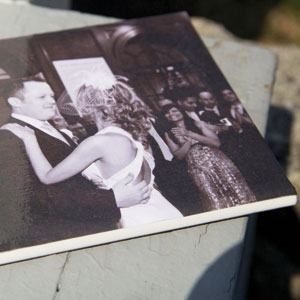 Step 6 – Complete the project by gluing the cork disc to the back of the tile with permanent glue.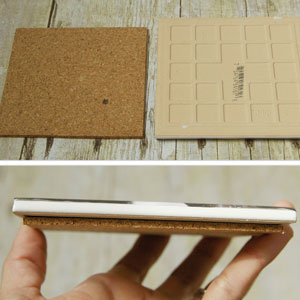 Step 7 – Let the tile air out for about a day. Repeat steps 1 through 6 for each tile you create. Carefully stack your coasters, tie a ribbon around them, and get ready to see Dad smile!