I was one of those people who said she could never work with children — aside from my own! I never planned to become a sewing teacher for children, it just kind of happened. But now that I am teaching children to sew, there is nothing on earth that I would rather do.
Watching a child, timid on the first day of class, grow into a confident sewist as lessons progress is such a joy and the reason I teach. Showing kids sewing-machine basics and giving them the autonomy to experiment with fabric and color opens up a new, creative world for them.
I have made it my mission to instill children with fantastic memories of crafting. Creativity was valuable in my childhood. I remember watching my grandmother as she worked on her sewing machine. And every school holiday, I'd carefully choose a cross stitch or needlepoint project to do while spending time with my mother and grandmother on the back porch of our farm.
There comes a time in a sewing class where everybody suddenly "gets it," but no one realizes that she's just crossed an invisible line into independent sewing. As my students sew and chat, they offer each other advice about school, sing along to music, and encouragingly compliment each other's work. Free of judgement, a self-confidence develops from this interaction. Kids stand a little taller when they leave my class, proudly clutching the day's artwork, with threads attached to their shoes, scraps of fabric stuck on their sweaters, and toothy smiles as wide as can be.
There is a fantastic sense of bonding between teacher and child, which can be replicated between you and your child when learning and creating together. Not only is the act of making with children a positive experience for the teacher or parent, but it is also an incredibly enriching and therapeutic activity for children. You can teach them about the beauty of imperfection. Ignore the wobbly lines, and instead, praise the effort. The straight lines will come with practice and confidence.
How to start
I particularly love the Sew Mini or The Derby Line machines from Janome for the younger sewer age 6 or 7. These options have the perfect price point (less than $100) and a great slow speed for the beginner. If your child is a little older and has good control, consider an affordable machine that can grow with her into adulthood, such as the $200-range, full-size mechanical Janome machines.
If you are not feeling comfortable teaching your budding sewist, contact your local community center or fabric store for recommendations of teachers. Sometimes local craft or fabric stores offer classes, too.
Maybe you want to teach your child. The great thing is that sewing is so portable! You can set up pretty much anywhere that has a table, chair, and good lighting.
There are plenty of sewing websites, like Sewmamasew.com, to help you feel inspired. Spend time on Pinterest and start a board with sewing projects and tutorials. Of course, a trip to your local library or bookstore will yield mountains of sewing books.
Go ahead, I know you and your child will love it!
Sweet Springtime Barrette
Celebrate the blooming season with this hand-sewn project to create for or with your child.
Supplies
Find the following at a local fabric or craft store, like Jo-Ann, or on the Web.
Felt scrap
Barrette base
Embroidery floss
Embroidery needle
Seed beads
Erasable gel pen (Pilot FriXion preferred)
Sharp scissors
Hot glue gun
Make it
1. Cut some circles in three different sizes from the felt scraps. Take a look at the barrette base; you want to be able to fit three main circles on it, and they can overlap.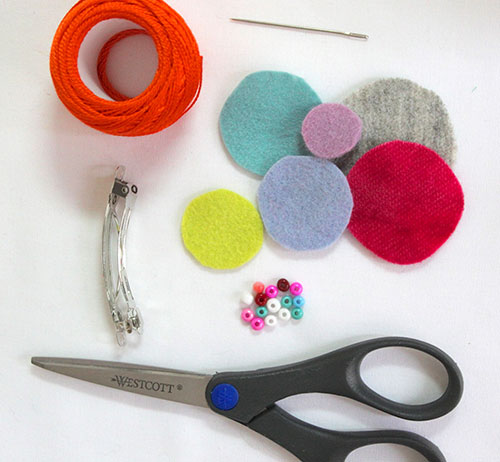 2. Use the scissors to cut a little fringe around your smallest circles.
3. Stack your circles so there are three on a stack, with the smallest, fringed circle on top. Each stack will become a flower.
4. Draw a star pattern with the erasable gel pen on the top circle of each stack.
5. Thread your needle with brightly colored embroidery floss. Tie a knot at the end.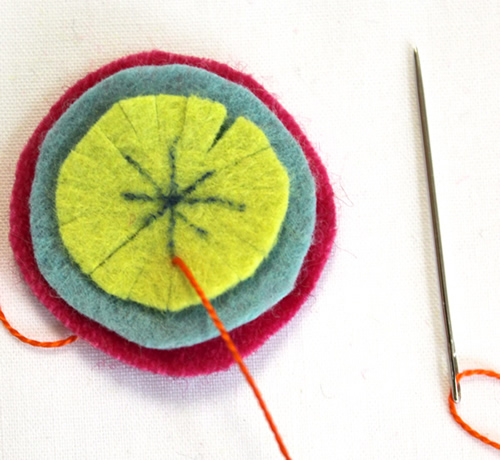 6. Holding together one of the three-circle stacks, bring the needle up from behind the stack so it comes through the end of one of the star points.
7. Push the needle down through the opposite end of the star point. Repeat steps 6 and 7 until the star is finished. Tie a knot at the back of the stack. Remove the pen marks with the iron.
8. To attach beads when making a star pattern on another stack, bring the needle from behind as with the first star. This time, thread a bead onto the floss, and then take the needle back down through the felt at the opposite end of the star point. Repeat for each point, and finish with a knot on the back of the stack.
9. To make a flower with Vicki knots, bring the floss up from behind a stack. Tie a loose knot in the thread, and place the needle at the spot where the floss is coming through the felt.
10. Tighten the knot around the needle, super close to the felt. Remove the needle.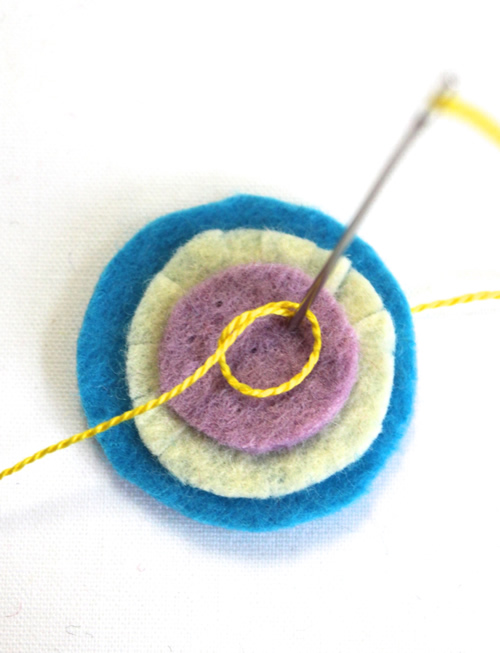 11. Push the needle down close to the knot, through the felt, to the back of the stack. Continue making knots until you have enough little dots for your flower circle.
12. Cut a few leaf shapes from felt.
13. Attach the leaves to the barrette with a little hot glue.
14. Attach the two end flowers with hot glue.
15. Attach the final middle flower.