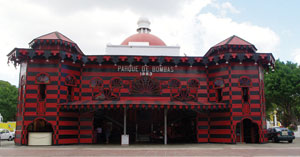 Many people think Puerto Rico is all about piña coladas and hotel spa treatments. Not so! There's oodles to do outside resort walls for kids and adults. Read on for the top five picks for family fun on the island that boasts it all: beaches, deserts, caves, rivers, and a rainforest.
1) Old San Juan
Viejo San Juan (as locals know it) is a seven-square-block area of cobblestone streets and pigeon-filled plazas. Quaint and charming, it's more reminiscent of a European city like Barcelona than an old Caribbean port. It's the perfect place for relaxed strolling with kids. There are parks and plazas around practically every corner, and the area's not hurting for kid-friendly, yet authentic food. Head straight for El Morro National Monument, a fort surrounded by gargantuan stone walls and cannons. Built way back in 1540, it's pretty much a maze filled with tunnels, dungeons, ramps, and secret passageways. Bring spare change to buy a kite to fly on its vast grassy area, where kids can run free while you savor the fabulous views of San Juan Bay. www.seepuertorico.com/en/experiences/culture/old-san-juan/
2) El Yunque
A rainforest is part of the United States — who knew? El Yunque National Forest is super-accessible. Only an hour from metropolitan San Juan, this hotspot places you in thick of the jungle. You can drive right in and park within just a few steps of plenty of cool observation areas, waterfalls, hiking trails and lookout points. There's also a welcome center to get a better grip on what to see. Kids get a huge thrill out of all the coquis, a.k.a. tree frogs, which make non-stop "ko-key" noises. Keep your eyes peeled for the Puerto Rican Amazon parrot, one of the most endangered birds in the world, but don't hold your breath — spotting one isn't a sure thing. Bring rain gear — it is, after all, a rainforest, and 100 billion gallons of rainwater is dumped on it every year. www.fs.fed.us/r8/caribbean/
3) Ponce
Drive to the southern side of the island to find calmer waters — the south touches the Caribbean Sea, while the north is on the Atlantic Ocean — and a genuine feel for local living. Go to the town square for the Old Ponce Fire Station (Parque de Bombas). It's an awesome firehouse painted with bold red and black stripes and a surefire kids' attention-grabber. Then walk over to Ponce's boardwalk, Paseo Tablado La Guancha, for good local eats and a ferry ride to Coffin Island, which has gorgeous beaches and an old lighthouse. www.seepuertorico.com/en/destinations/south/
4) Rio Camuy Cave Park
The cool factor in the caves at this locale is through the roof. It's the third-largest cave system in the world, formed more than a million years ago. Translation: Convincing kids to visit is as good as done. The trails take you 200 feet down into the earth. You can take a trolley ride through the caves and sinkholes, which have some odd types of fish (they're blind!), plenty of bats, and tons of ferns. Go on your own or prearrange a guided tour; either is an adventure. This isn't just a way to kill an hour — plan on an entire day. Bring a picnic lunch, a camera to record all those crazy stalactites and stalagmites, and some extra coin for souvenirs. www.seepuertorico.com/en/experiences/nature/
5) Your hotel
Yes, my favorite Puerto Rican adventures are outside hotel walls. But truth be told, some of the best family resorts in the world are in Puerto Rico, so why not sink your teeth into them? Most offer multiple pools, gobs of beach activities, lively family events, a fully equipped recreation center, and a daily kids' club. Spending a few days on the property is just plain good judgment! My suggestion: Alternate between active excursions and leisurely resort days and you'll go home relaxed, refreshed, and revived.
Where to Stay
Top pick: El Conquistador Resort, a Waldorf Astoria Resort that has its own private island and beach, an onsite water park, dozens of water activities, restaurants galore, and kids' adventures around every corner. www.elconresort.com
Another good choice: The Caribe Hilton, which is close to Old San Juan, has plenty of pool action and grounds with peacocks, swans, turtles, and a rooster or two. www.caribehilton.com
What to Wear
Colorful casual is the theme here. Plan for heat and humidity. Walking around town calls for comfy and supportive-but-stylish shoes.