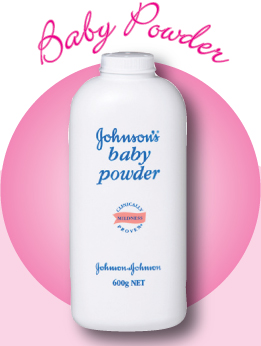 Greasy hair? Nix oily strands by shaking a bit of baby powder onto the scalp. Massage gently and let the powder go to work. It absorbs excess grease while giving the root lift and volume. Brush through to get every strand.
Low on lashes? Volumize your eyelashes by sprinkling just a bit of baby powder onto them. This gives a fuller effect when mascara is layered over it. No need to spend extra money on a separate volumizing tube.
Unfortunately, accidental grease stains are common when little ones are running around. Rub some baby powder onto your fingers and then onto stains to absorb oil. This step helps with the washing process.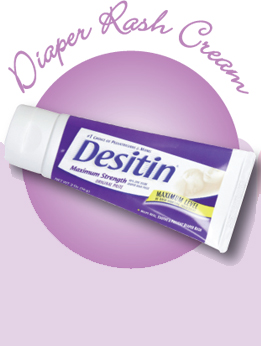 If a pimple begins to form, dab some diaper rash cream onto the bump. This multi-use cream can also reduce the redness and irritation on your skin.
Forgot to put on sunscreen? Diaper rash cream contains zinc oxide, a known ingredient to defend against the sun's rays.
If you're feeling particularly dry around the eyes, smooth a pea-size amount of diaper rash cream around the area. Not only does this hydrate, but it's also known to decrease the appearance of wrinkles.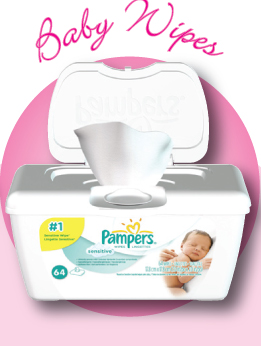 No time to wash your face midday? Use a few baby wipes between tasks to keep grime off the skin's surface. Wipes may also be used as an on-the-go makeup remover. They are safe around the eyes and effective in abolishing liquid eyeliner.
We all know that baby wipes are great for cleaning body parts. But did you know they could also wipe away stains on clothing? If deodorant has rubbed off onto your black blouse, use a baby wipe to reduce its appearance.
This is an oldie, but goodie. For all things chapped or dry, Vaseline is the answer. Apply some to lips, elbows, heels or knees to replace moisture.
Petroleum jelly is a great base for makeup, as well. To give your powdery eye shadow a dewy look, mix it with a little Vaseline and apply throughout the lid.
If you don't have any blush on hand, don't fret. Combine a bit of lipstick and jelly, and you've just created a cream blush.
If you're looking to keep your lipstick light, transform it into a lip gloss by blending the pigment with Vaseline. It keeps lips hydrated and lends a lovely sheen.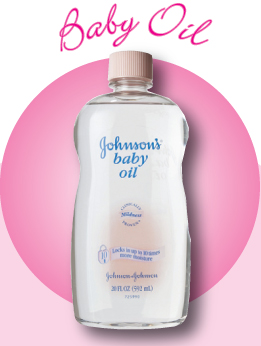 As a makeup remover, baby oil definitely does the trick. It eliminates everything from waterproof mascara to full coverage foundation. If you're removing all products from your face, try using a few cotton balls and cotton pads. If you're fixing a small mistake, Q-tips are a nifty eraser.
Do flyaways have you obsessively looking in the mirror? Tame them with baby oil. If you tend to have oily roots, stay away from the scalp and use sparingly from mid-section on.