Memorial Day Weekend with Hester Street Fair Saturday & Sunday
May 27 @ 11:00 am

-

May 28 @ 6:00 pm
Come down to Pier 17 to celebrate Memorial Day Weekend with us! Our market is open on Saturday and Sunday, May 27th & 28th from 11am – 6pm
Hester Street Fair is partying it up at The Seaport for another great season (our 14th season). We're looking towards another year and we are happy to get back to our roots of creating space for people to gather, celebrate and discover what unites and propels a local community. And on top of it all, we are very happy to be showcasing the best small businesses in NYC.
Come down to Pier 17 to celebrate Memorial Day Weekend with us! Our market is open on Saturday and Sunday, May 27th and 28th from 11 am – 6 pm. Each day we're keeping things classic with a roster of 60+ vendors including many things found, food, fashion, art, and more.
Find us with the white tents and DJ booth in the back! Or keep your eyes peeled for our 30' whacky arm blow up man! You won't be able to or want to miss any of it.
Special Programming
Saturday Nick Spaceman hits our DJ tent for the very first time! His selection runs deep and the heart-pumping dance tracks get us moving/singing out loud every single time.
Sunday XPIZZA's residency has created a one-stop shop for the underground arts including zines, clothes, and tons of vinyl. See who's in the booth as different DJs and more pop in and out throughout the day.
West 32's Soju Bar is back! Find us in the red tent for a summer cocktail made with New York's finest soju. Specials will be on our menu featuring Olipop and Le Moné.

What's On The Menu?
Saturday Coluccio Cooks, XPIZZA, Ham's Kitchen, and BOA Teahouse are making their HSF debuts while Joyful Bubble Waffle and Coquito Rico got you covered on a dessert. Our bakers today will be Loungin' Cake, Jade Rose Bakery, and Palmiste Indulgence.
Sunday Healthy As A Motha, Downeast Lobstah, Perros Loccos, Solo Scoop Creamery, Rosie's Empanadas and Chocolicious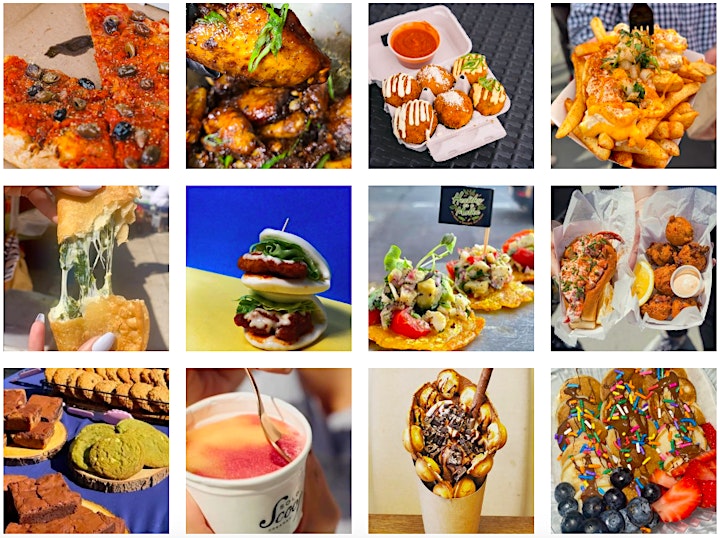 Highlighted Vendors
Shana Cave, Dunce Gallery, The Roon, Alessandra Pohlman, The Mantel NYC, Aromatherapy Drops, Othamana Olive Oil and Plant It NYC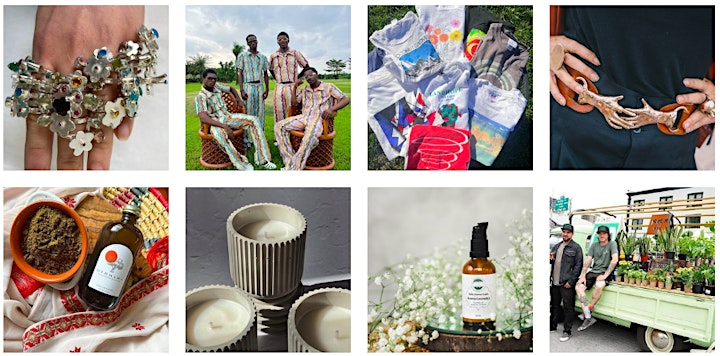 Full Roster
Saturday Allegorie, Allegra Vintij, Arcane Vintage, Aromatherapy Drops, Arrngmnt, Bao Tea House, Cantina Royale, Coin Art, Colby's Clothesmobile, Coluccio Cooks, Copper Cactus Vintage, DonothingNYC, Dunce Gallery, EAG Vintage, ECDYSIS, Eden's Harvest, El Doradx, Elodie Studios, Éternel Luminen, Evermore Apparel, Fem World, Fluorescent Skin, Fool's Errand & Olive's Items, Ham's Kitchen, Healthy Healers Empowered Creations, House of Totes, Jade Rose Bakery, Javelin NYC, Jolie Bebe Boutique, Joyful Bubble Waffle, Karenka Shop, Laglou, Lal Vintage, Le Moné, LesColoris, Loungin' Cake, MAMA Jewelry, Margot and Valentina, Meulien, Mottive, Natural, Beauties Jewelry,Noir Brooklyn Studios, Nourrir Drinks, Paige's Candle Co.,Palmiste Indulgence, Platonic Love Vintage, Popped, Preppy Trendy, Pressure Makes Diamonds, Rare Bodega, Red River Vintage, SASS, Sarafine, Shana Cave, Simple NYC, Snow Milk, Spinster Kitchen, Suburbia Circus, The Narrative Vintage, The Uncommon Elite, UltraRay, Vickie's Jerk Sauce, Village Psychic Lisa DeMetro, Wilde Herbs, XPIZZA
Sunday14 Dias x Fuji Princess, Adorn NYC, Alessandra Pohlman Jewelry, Allegorie, Arcane Vintage, Aromatherapy Drops, Arponcho, Arrngmnt, Azyr Specs, Brooklyn Kuriosities, Cantina Royale, Cherir Vintage, Chocolicious NYC, Downeast Lobstah, Dunce Gallery, ECDYSIS, Eden's Harvest, Elodie Studios, Éternel Luminen, Finding doll, Golden Green Leaf, Healthy As A, Motha, Hi Goose, House of Totes, IFLYUNIVERSE, Jade Rose Bakery, Javelin NYC, Joella Crafts, Karenka Shop, Laglou, Lal Vintage, Lavazzon Gallery, Le Moné, Loungin' Cake, Maouiwowwie, Meulien, Mottive, Noir Brooklyn Studios, Othmana, Paige's Candle Co., Palmiste Indulgence, Perros Locos, Plant It NYC, Popped, Preppy Trendy, Pressure Makes Diamonds, Rare Bodega, Red River Vintage, Rosie's Empanadas, SASS, Skipping Girl Sterling, Snow Milk, Solo Scoop Creamery, Sweet Fire, Teque NYC, The Mantel NYC, The New York Cottage Industry, The Roon, The Uncommon Elite, Uncle Yankey's Pepper Sauce, Vickie's Jerk Sauce, Vintage Age NYC, Wild Blueberry, Wired for Love Designs, XPIZZA
Related Events